The Panasonic Toughbook CF-30 is built to last.
Encased in a Magnesium-alloy case, the Toughbook CF-30 also includes sealed port covers making the CF-30 both moisture and dust resistant while the hard drive is protected in a shock resistant enclosure.
Upgrading your refurbished Panasonic Toughbook CF-30 is a snap with our on-site service center. Increase the performance of your Toughbook by adding additional RAM or increase your storage capabilities with a larger hard drive.
The Panasonic Toughbook CF-19 is a convertible-style computer that can be used as either a classic fully-rugged laptop or the screen can be rotated and folded flat into a rugged tablet.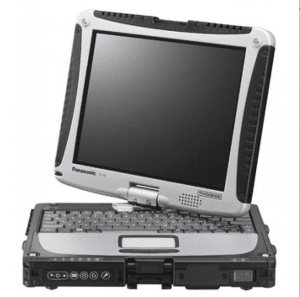 Best after warranty depot in Western Canada
We sell lease back Panasonic Toughbooks Model CF-30. This is the perfect choice in today's economy. Sensibly priced for even the most budget conscious consumer, a refurbished Panasonic Toughbook CF-30 can cost thousands less than a comparably equipped new rugged laptop.